メンバーは課題を金曜までに読んで、「質問を2つ」考えてきて下さい。ノートに写すと力💪になります。今週は 「労働力不足をロボットで」について。今後どのような職種が人口知能AIやロボットに代わっていくでしょうか?そしたら人間には何が残る?(生まれる?)
Desperately short of labor, mid-sized Japanese firms plan to buy robots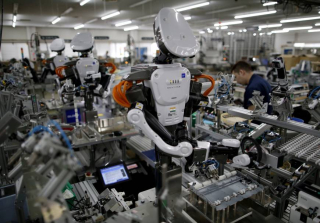 (Reuters file photo
Humanoid robots work side by side with employees in the assembly line at a factory of Glory Ltd., a manufacturer of automatic change dispensers, in Kazo, Saitama Prefecture, in July 2015.)
Desperate to overcome Japan's growing shortage of labor, mid-sized companies are planning to buy robots and other equipment to automate a wide range of tasks, including manufacturing, earthmoving and hotel room service.
According to a Bank of Japan survey, companies with share capital of 100 million yen to 1 billion yen plan to boost investment in the fiscal year that started in April by 17.5 percent, the highest level on record.
It is unclear how much of that is being spent on automation but companies selling such equipment say their order books are growing and the Japanese government says it sees a larger proportion of investment being dedicated to increasing efficiency. Revenue at many of Japan's robot makers also rose in the January-March period for the first time in several quarters.
"The share of capital expenditure devoted to becoming more efficient is increasing because of the shortage of workers," said Seiichiro Inoue, a director in the industrial policy bureau of the Ministry of Economy, Trade and Industry, or METI.
If the investment ambitions are fulfilled it would show there is a silver lining as Japan tries to cope with a shrinking and rapidly aging population. It could help equipment-makers, lift the country's low productivity and boost economic growth.
The government predicts investment in labor-saving equipment will rise this fiscal year, Inoue said.
The way Japan copes with an aging population will provide critical lessons for other aging societies, including China and South Korea, that will have to grapple with similar challenges in coming years.
"More than 90 percent of Japan's companies are small- and medium-sized, but most of these companies are not using robots," said Yasuhiko Hashimoto, who works in Kawasaki Heavy Industries Ltd's (7012.T) robot division. "We're coming up with a lot of applications and product packages to target these companies."
Among those products is a two-armed, 170-centimeter (5-foot-7) tall robot. Kawasaki says it is selling well because it can be adapted to a range of industrial uses by electronics makers, food processors and drug companies.
Hitachi Construction Machinery (6305.T) says it is getting a lot of enquiries for its computer-programmed digging machines that use a global positioning system to hew ditches that are accurate to within centimeters and can cut digging time by about half.
"We focus on rentals and expect business to pick up in the second half of the fiscal year, which is when most companies tend to order construction equipment for projects," said Yoshi Furuno, a company official. Hitachi Construction declined to provide figures.
Mid-sized companies are planning on increasing spending much more than large-caps, which are projecting just a 0.6 percent increase in the fiscal year, according to the Bank of Japan. Smaller companies tend to have less flexibility in overcoming labor shortages by paying workers more or by moving production overseas.
(ロイター Stanley White | TOKYO)
<アカデミー1クラスへ>
そろそろ文章の組み立ても見ながら読んでみましょう。同じような文章が書けるようになるようにイメージしてみて下さい。
アカデミー1には今秋からアメリカの大学へ進学する生徒さんも参加しています✨頑張っていますよ!
<アカデミー1クラス以外の皆さんへ>
アカデミー2(金6:10)、3(火5:30)クラスにも配信しています。
取り組みを続けると慣れていずれ簡単になります。まずは一段落だけでも読みましょう。
意味は分からなくても書き写しましょう。単語は興味があれば少しだけ調べてみて下さい。
但し時間は10〜20分で。それ以上かかる場合は日を改めましょう。
続ける事が何よりも重要なポイントです。欲張ってやりすぎると楽しくなくなります。興味がわかないと学習効果は上がりません。
おうちの方は、記事について日本語でいいので(新しく知る単語のとこだけは英語に差し替えて)、子供達とディスカッションしてください。(特にお父さんと)使うと血肉になります💖のでここ、重要です!!!