メンバーは課題を金曜までに読んで、ノートにも写して「質問を1つ」考えてきて下さい。
今週は「どう変わる?2020年度からの大学共通テスト」から。
(日本語全訳が欲しい方は emacenglish@gmail.com、Kazueまで)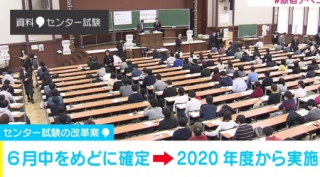 2017年7月13日、文部科学省では高大接続改革の一環として「平成33年度大学入学者選抜実施要項の見直しに係る予告」を決定しました。
センター試験は2020年1月を最後に廃止され「大学入学共通テスト」がスタートします。今の中学3年生(2017年4月時点)から、この「共通テスト」(2021年1月実施)を受検することになります。大きな変更点は、記述式問題の導入と英語の4技能(読む・聞く・話す・書く)を評価するところ。
何と言っても「聞き取る力」は、取り組んだ時間数+集中力が比例します。逆を言えば、日頃から取り組んでいれば、Pain-freeラクに身につけられます。英語を学習したからといって日本語を忘れるわけではありません。日本語はたくさん絵本の読み聞かせをしてあげたり、祖父母やご近所の方とお話しをさせてあげて下さい。英語、他の言語も欲張って大丈夫。学習した分だけ身につきますよ!
New unified entrance exams a chance to shift from knowledge-centric testing
より正確に more accurately
英検 Test in Practical English Proficiency
選択肢 option
小論文 short essay
実のある改革 substantive reform
国立大 national university
推薦入試 entrance exam by commendation
The Education, Culture, Sports, Science and Technology Ministry has finally settled on a plan for implementing a unified university entrance examination system to replace the test by the National Center for University Entrance Examinations. The ministry must quickly put preparations in place to enable the smooth implementation of the plan.
One pillar of the new entrance exam, which will be introduced from the 2020 academic year, is the introduction of short-answer questions for Japanese language and mathematics. The standards for grading that will be entrusted to the private sector should be clearly stipulated, and the system should be examined through trial tests.
Multiple-choice tests will also be able to more accurately assess a student's level of understanding through steps including questions in which several correct answers must be chosen.
Regarding English, the new system will use the results of tests administered by private-sector organizations, such as the Test in Practical English Proficiency (Eiken) and the Test of English as a Foreign Language (TOEFL), which gauge a student's practical ability.
The financial burden shouldered by test takers will increase. There also are concerns that opportunities to sit these exams could be limited in regional areas. In the first place, some private-sector exams were never intended to be used for entrance tests. The education ministry should carefully approve which tests will be acceptable for this purpose.
It can be called a realistic decision that the options were broadened by allowing the current English test format compiled by the national center to remain in place until the 2023 academic year. If a full switch is to happen in the future, many problems need to be settled.
Four years ago, the government's Education Rebuilding Implementation Council suggested breaking away from scoring tests using single-point increments and holding a "one-off" exam on which everything hinged. It also proposed the new entrance tests be held several times a year.