メンバーは課題を金曜までに読んで、意見を考えてきて下さい。ノートに写すと力💪になります。今週は中学生にも話題になっている💕💕フランスのマクロン新大統領❗️「EU崩壊を防いだマクロン氏」より。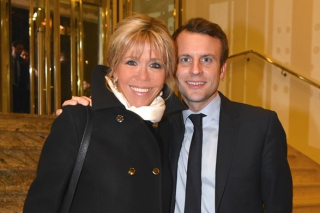 (写真:media-groove)
Macron's win in French election saves EU, but challenges remain
It is safe to say that the worst-case scenario of a possible collapse of the European Union has been averted. Will France's latest election result facilitate political stability in the country?
Former economy minister Emmanuel Macron, an independent centrist candidate who is pro-EU integration, won a runoff for the French presidency by a wide margin, defeating the leader of the far-right National Front, Marine Le Pen, who campaigned on a platform promoting French secession from the EU. Macron, 39, will be France's youngest president in history.
In his victory speech, Macron vowed to "fight the division that undermines France" and to "guarantee the unity of the nation and ... defend Europe."
The main reason for his win was the desire of French voters to preserve the status quo, as they appeared reluctant to rapidly turn away from the EU. Macron's denouncement of Le Pen's election pledge to withdraw France from the eurozone as dangerous appears to have been persuasive.
There is no doubt that Macron's electoral bid was also boosted by a favorable tailwind supplied by established political parties — the center-right and center-left wings — when they swung over to him after their candidates had been defeated in the first round of votes.
Le Pen won a record number of votes for a National Front candidate, adding to her gains in the first-round ballot. She enjoyed broader support in regions where the manufacturing industry has suffered a decline. Serious divisions clearly exist in French society.
Solve mountain of problems
Voter turnout in the latest election dropped from that in the 2012 presidential race, and the number of blank and invalid votes reached a record high. This seems to indicate that a number of voters rejected both Macron, who hails from the elite, and Le Pen, who stresses a firm rejection of immigration.
After selecting a lineup of cabinet members for his new administration, Macron will attempt to lead his new political party to win seats in June's National Assembly election. The assembly has the power to put forward a vote of no-confidence against the cabinet, and it is not easy to win a sufficient number of seats to avert such a move.
If Macron seeks to carry out such election promises as economic rejuvenation through deregulation and job creation, he will need to adopt a flexible approach, such as tie-ups and cooperation with the established political parties.
France, the second-largest economy in the eurozone, has served as a driving force for European integration. Macron's endeavors are vital to reinforce the unity of EU members at a time when they are undergoing the difficult process of Britain's exit from the bloc.
In many EU nations, populist parties seeking to protect the interests of their own countries have sought to reject refugees and immigrants. These parties have been attacking the EU's austerity policy line and contesting established political parties in their countries.
Anti-EU forces did not fare too well in the recent Netherlands lower house election, and such forces in France were stopped from snatching power in the latest presidential poll. Top political leaders of EU countries, including German Chancellor Angela Merkel, have welcomed the electoral results.
However, the EU cannot afford to feel satisfied with the current situation. There is a mountain of problems to be solved, such as devising effective refugee policies and reducing economic disparities between northern and southern Europe. Serious efforts must be made to implement reforms, while also stemming an increase in the strength of populist parties in various parts of the region.
(From The Yomiuri Shimbun, May 9, 2017)