メンバーは課題を金曜までに読み、ノートに写して次の質問の答えを考えてきて下さい。
今週は「日本の将棋とは英語で?」から。
質問:Which do you think is more difficult, shogi(将棋) or go(碁)?
(日本語全訳が欲しい方、またはクラス参加希望の方は academy@emacenglish.com、Kazueまで)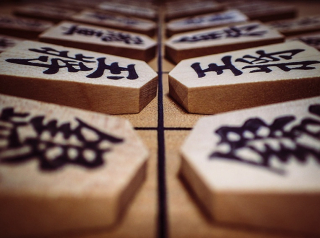 日本の将棋について、外国の人と話すとき、下記の会話を参考にしてみるといいですね。
consecutive wins: 連勝
complicated: 複雑な
prisoner abuse: 捕虜虐待
protest: 抗議する
make good use of: 利用・活用する
Beth: I hear Japanese chess is so popular now.
Aiko: Yes. A young professional shogi, or Japanese chess, player broke the record of 28 consecutive wins this June for the first time in 30 years. He was only 14, a junior high school student. I think today's boom started then.
B: Are junior high school shogi pros common?
A: Not really, but there are five who became professional when they were in junior high.
B: Is shogi similar to chess?
A: Both originate from an Indian board game called "chaturanga." Their goal is the same—to checkmate the opponent's king. But there are some differences. For example, the number of grids on the board is 64 in chess and 81 in shogi. Each player has 16 pieces in chess, but 20 in shogi. The shapes and some movements of the pieces are different, too. The most unique difference is that we can use captured pieces as our own in shogi.
B: It's interesting, but I think that makes shogi more difficult and complicated.
A: I agree. And because of this rule, The General Headquarters of the Allied Forces (GHQ) tried to ban shogi after World War II, saying it was like prisoner abuse to use captured pieces. But a famous shogi player protested that shogi is democratic because we give the pieces new chances to make good use of their abilities.
B: By the way, how many titles are there in shogi?
(Japan Newsより)