メンバーは課題を金曜までに読んで、ノートにも写して「質問を1つ」考えてきて下さい。
今週は映画「Hidden Figures(隠された立役者)」(邦題:ドリーム)からセリフをご紹介します。
(日本語全訳が欲しい方は emacenglish@gmail.com、Kazueまで)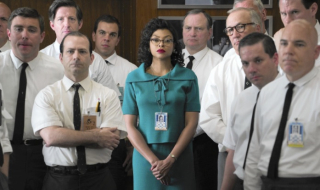 ケネディ政権下、バスの座席やトイレが白人と有色人種に分けられていた時代に、NASAの研究所で優秀な頭脳を持つ黒人女性たちが計算手として働いていた。アメリカ宇宙開発の知られざるヒロインたちを初めて世に紹介したのが本作。
Scene
ある朝、NASAに通勤中のキャサリンたちは、乗っていた車のトラブルで道路の真ん中で立ち往生していました。そこへ白人警官がパトカーで通りかかります。
White Cop: Not a great place for three of y'all be having car trouble.
Mary Jackson: We didn't pick the place, Officer. It picked us.
White Cop: Are you being disrespectful?
Mary Jackson: No, sir.
White Cop: You have identification on you?
Mary Jackson: Yes, sir.
Katherine Johnson: Yes, sir. We're just on our way to work at Langley. NASA, sir.
[all three show him their ID's]
Dorothy Vaughan: We do a great deal of the calculating, getting our rockets into space.
White Cop: All three of you?
Katherine Johnson: Yes, sir.
Mary Jackson: Yes, Officer.
[he takes Mary's ID and looks at it]
White Cop: NASA, now that's something. I had no idea they hired…
Dorothy Vaughan: There are quite a few women working in the space program.