メンバーは課題を金曜までに読み、ノートに写してきて下さい。
今週は日本語翻訳課題「アメリカ大リーグの大谷選手争奪戦」から。
二刀流のスター選手、大谷翔平さん。今後の野球界がとっても楽しみですね!
(日本語訳が欲しい方は hello@emacenglish.com、Kazueまでお知らせください。)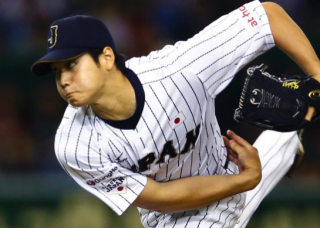 ANAHEIM, Calif. (AP) — Shohei Ohtani has decided he's on the side of the Angels.
The Japanese two-way star announced Friday he will sign with the Los Angeles Angels, ending the sweepstakes surrounding his move to the majors in a surprising destination.
Ohtani, who intends to be both a starting pitcher and an everyday power hitter, turned down interest from every other big-league club to join two-time MVP Mike Trout and slugger Albert Pujols with the Angels, who are coming off their second consecutive losing season and haven't won a playoff game since 2009.
The Angels' combination of a promising core and a beautiful West Coast location clearly appealed to the 23-year-old Otani, who has confounded baseball experts at almost every step of his move to North America as one of the most coveted free agents in years.
 (AP Photo/Shizuo Kambayashi, File)